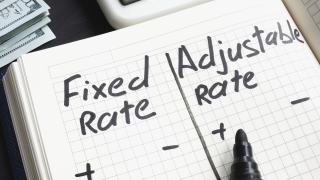 Fixed Rate vs. Arm Mortgage
Jan 25, 2023
Next to choosing the right home, your mortgage interest rate is the next largest decision. Borrowers have the option of a fixed or adjustable-rate mortgage (ARM). Both have pros and cons; here's what you should know about how they work.
What is a Fixed Rate Mortgage?
Fixed-rate mortgages keep the same interest rate for the life of the loan. Your payment doesn't change unless your real estate taxes or homeowner's insurance costs change. A fixed-rate loan is the most popular option because of the predictability of the payment.
How Does it Work?
When you apply for a fixed-rate loan, you lock in an interest rate for the life of the loan. The rate never changes unless you refinance the loan. Fixed-rate mortgages often have slightly higher interest rates than ARMs because of the guarantee fixed-rate loans provide.
What is an Adjustable Rate Mortgage?
ARM loans are usually on 30-year terms, but the rate is only fixed for an introductory period. The loan's interest rate adjusts annually after that. ARM loans are typically available in 3, 5, 7, and 10-year introductory periods. The longer the period you choose, the higher the rate will be.
How Does it Work?
When you borrow an ARM, you get an introductory rate for the initial period, usually 3 - 10 years. After that time, the rate adjusts on the anniversary of your loan each year. The rate adjusts based on the loan's index and margin.
Index - Each ARM loan is based on an index, such as LIBOR or the Prime rate. This is the basis of the rate on each change date.
Margin - Lenders determine the margin or how much they'll add to the rate on each change date.
ARM loans also have caps, or a maximum amount they can change, including the following:
Initial cap - This is the maximum amount your rate can change on the first change date. It limits the payment shock when your payment changes.
Periodic cap - This is the maximum amount your rate can change in future adjustment periods.
Lifetime adjustment cap - This is the maximum amount the rate can change over the loan's entire term.
Which is Better, Fixed-Rate or Adjustable-Rate Loans?
Every borrower has a different situation, but here are some instances when an ARM loan makes more sense:
You'll only live in your home for a short period.
You know your income will increase in a few years.
It's a high-interest-rate environment, and you want to save money initially.
In some cases, though, a fixed-rate loan makes more sense, including the following:
You are buying your "forever home".
You need a more predictable payment.
It's a low-interest rate environment.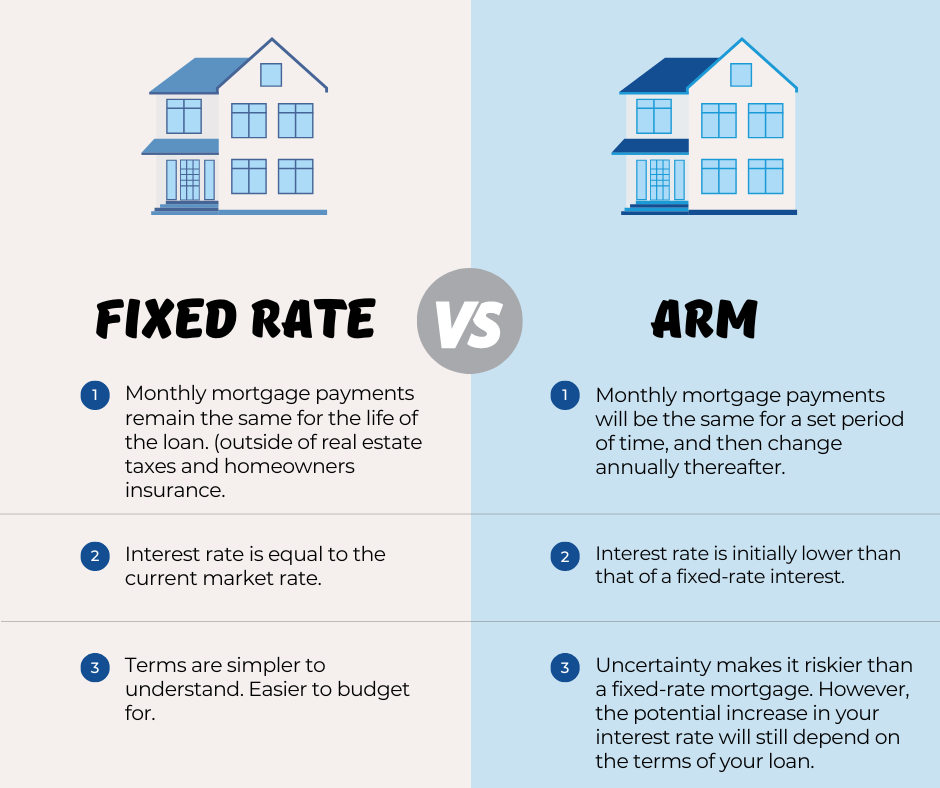 The Best of Both Worlds
What if you could choose a special low fixed rate? Now you can, through January only, have the opportunity to receive a special 5.99% fixed interest rate (6.520% APR) on select DSLD Quick Move-In Homes. PLUS DSLD Homes is offering up to $10,000 toward closing costs and a free side-by-side refrigerator when using DSLD Mortgage and their preferred title company. Restrictions apply.
Final Thoughts
Choosing your interest rate is a big decision. Think about what you can afford and what you can handle regarding interest rates and your payment changing. Look at the big picture, including the total cost over the loan's term, to decide which option is right for you.
Ready to find the right loan for you? Get started today.
---
*Offer available for qualified buyers of certain DSLD homes in certain communities and subject to credit approval. Must execute purchase agreement between 01/01/23 and 01/31/23 and home must close on or before 03/31/23. Must use DSLD Mortgage (affiliate of DSLD Homes) and Seller's Selected Title Company to qualify for special interest rate and closing cost and/or rate buy down incentives. APR based on the following loan terms: Price $265,000 with 30-Year Fixed Conventional at 10% down payment Other restrictions and conditions apply. Not all borrowers will qualify for special interest rate. Financing by DSLD Mortgage, LLC, NMLS 120308. 7660 Pecue Lane, Suite 300 Baton Rouge, LA 70809. Licensing information available at www.nmlsconsumeraccess.org. Revised 01/01/23. Get an official Loan Estimate before choosing a loan. Use of a specific settlement service provider or business is not a requirement or a condition of applying for and/or obtaining a mortgage loan with DSLD Mortgage.